Bowling Depot - COVID-19
Last update: July 30, 2020
We are open and ready to welcome back our bowling community; committed to a safe environment. Our hours are on our Hours page.
We will be following all Alberta Health Services guidelines including but not restricted to the following (these will be fine tuned as the situation is dynamic). Note: Any mandates by provincial health or government authority - if more restrictive than this protocol - will apply.
As per City of Calgary bylaws, the use of face coverings is mandatory in our facility except while eating.
There will be a maximum cumulative capacity in the center.
There will be a minimum of one idle lane on each side of a group.
There are to be no more than six people on a lane.
Physical distancing will apply. Please obey all arrows, floor dots, wait circles, and other markings in the building. In the absence of markings, keep right and allow seven floor tiles between you and the person ahead of you.
All touch points at the lane bed as well as shoes and balls will be sanitized after each bowling session.
If you bring your own personal bowling balls and/or shoes, our staff must sanitize them before play.
Disposable slider shoes are available.
There will be increased sanitization and cleaning of common touch points and washrooms.
Staff will be practicing increased hand hygiene and wearing protective equipment.
You will receive a sanitized shoe bucket at check in. Please put your outdoor footwear in the bucket and leave it at your lane while bowling.
When you are done, leave all rental bowling shoes in the bucket.
Staff will be applying hand sanitizer to guests on arrival.
DO NOT enter our facility if you:

have any symptoms of COVID-19 (cough, fever, sore throat, runny nose, lack of smell and the like)
have been a close contact with a current case of COVID-19
have travelled outside of Canada in the past 14 days

If you book with us and develop symptoms before your booked time, call us and cancel your booking. If there is a deposit it can be refunded.
Violations of guidelines may result in removal from the facility without refund.
Maximize your time with us as follows.
It is smart to call for a reservation. Walk-ups are accepted subject to occupancy and distancing requirements at the time of your arrival.
At the entrance, keep right (except wheelchairs using the automatic door).
Stay on your assigned lane unless using the washroom or patronizing concessions.
Limit of one designated person per lane/group for the purposes of ordering food and drink from concession.
Do not move between seating areas of the lanes as each seating area is sanitized for a future group.
Please proceed to the nearest step to your lane and use the concourse.
Do not collect or touch balls, ball racks, seats and keyboards on other lanes.
Do not touch items that you do not intend to purchase or use for your bowling.
Due to capacity limitations please do not bring spectators (except special needs caregivers and parents of children that are bowling).
Contactless debit or credit is preferred. Payment terminals and the control desk will be sanitized between customers.
Loud cheering can be a spread hazard for any virus or bacteria. Please use air-fives.
We encourage the use of masks and face coverings.
Curbside pickup
Curbside pickup and phone ordering will be available on all meals (except liquor). Pickup times must be scheduled at the time of order such that we can control traffic in the area and ensure your food is served hot.
Curbside will be available for gift card and pro shop purchases. Contact us for more details.
Takeout is available for bowlers upon completion of the game. Bowlers should place their orders about 20 minutes (about 20 turns) before their last frame such that the food can be taken out right after bowling.
June 10, 2020
We have been advised that indoor recreation will be eligible to open on June 12.
We have not verified our opening date as of yet. Our facility isn't quite ready to go yet, but we are getting there quickly. We will be opening soon under provincial health restrictions.
Stay tuned to the website for the latest updates. Once our official COVID-19 protocols and opening date are established we will publish them here.
At this time we would like to thank all our front line workers for their efforts. Also we thank all Albertans for their part in staying safe.
April 10, 2020
League update: We will be discontinuing and cancelling the balance of the 2020 league season.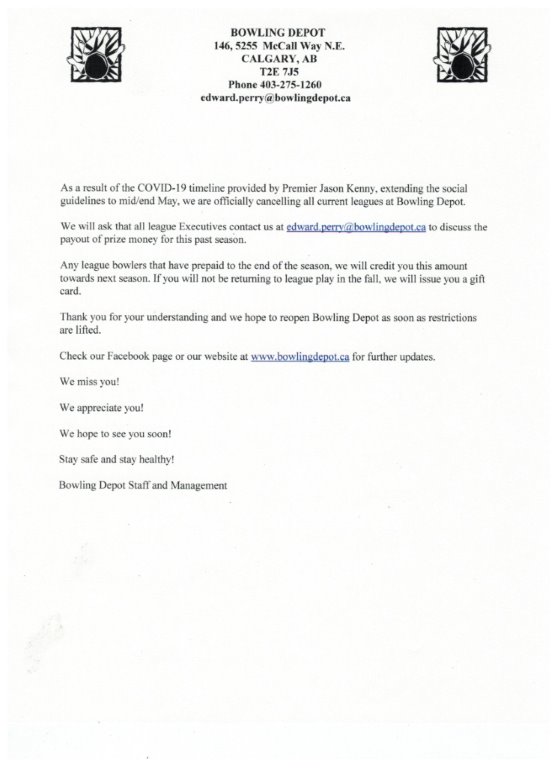 March 17, 2020
Due to the severity of the current COVID-19 situation and the state of emergency by the Government of Alberta, we will be suspending operations.
Our current leagues will be delayed and we will be in touch with the league executives of all leagues once it is determined to be safe to resume operations. Our current bookings can be deferred to a later date or cancelled and deposits refunded.
At this point, we wish everyone in the bowling community to stay safe and we will see you again once this unthinkable situation abates.